The Ultimate Guide to Buying the Best Restaurant Patio Furniture
If you're a restaurant business owner in Canada, chances are you've got an outdoor space, outdoor seating, or commercial patio with seating options. And if you've got a patio, then you need the right commercial patio furniture to make it complete perfect outdoor oasis.
But with such a wide selection out there, it can be tough to know where to start. That's why we're here to help. In this blog post, we'll take a look at some of the best restaurant patio furniture options for Canadian businesses. We'll cover everything from budget-friendly options to high-end choices, bar stools, so you can find the perfect fit for your shop. So let's get started!
The pros and cons of different patio furniture materials
If you're looking to spruce up an outdoor area, outdoor restaurant, hotel rooftop or outdoor space in general, it can be difficult to know what outdoor furniture materials are going to stand the test of time and weather such as uv rays in summer.
From outdoor restaurant furniture and commercial outdoor furniture, to garden and balcony furniture, there are a plethora of options available these days.
Plastic as a commercial outdoor furniture is lightweight and affordable, but long-term exposure to the elements can cause them to fade or crack over time.
Teak as a restaurant furniture is incredibly weather resistant but also comes with a higher price tag, while aluminum outdoor seating can corrode if not treated.
Wicker and rattan in restaurants withstand moisture well but they may need some protective coating and higher maintenance than other materials due to their woven structure.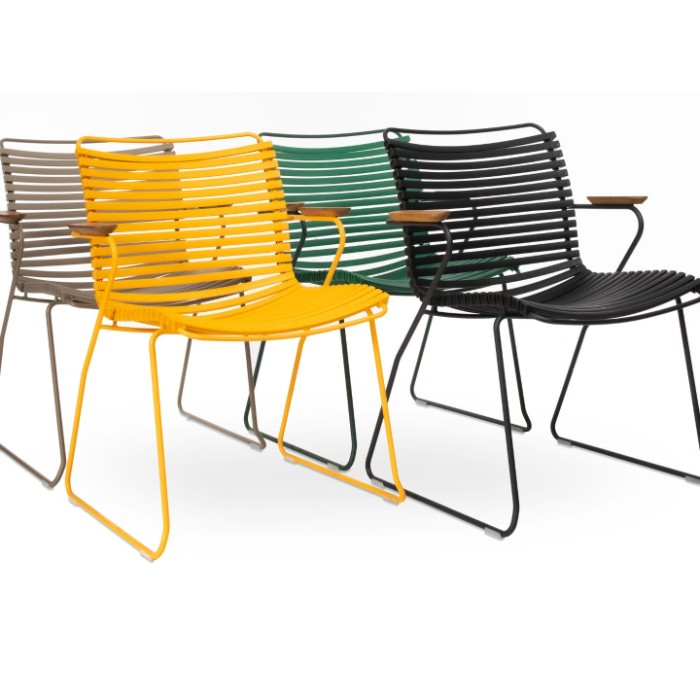 Ultimately, deciding which patio furniture material or commercial outdoor furniture is best for any specific outdoor setting boils down to weighing out the pros and cons.
What is the best outdoor furniture for weather?
What material is the ideal choice for commercial outdoor furniture in Canada?
The best and most durable outdoor furniture option for Canadian businesses is likely teak patio furniture. Teak is known for its natural resistance to moisture, rot, and termites, making it an ideal choice for humid climates like those found in Canada. It also has a beautiful natural finish that can last for many years with regular maintenance.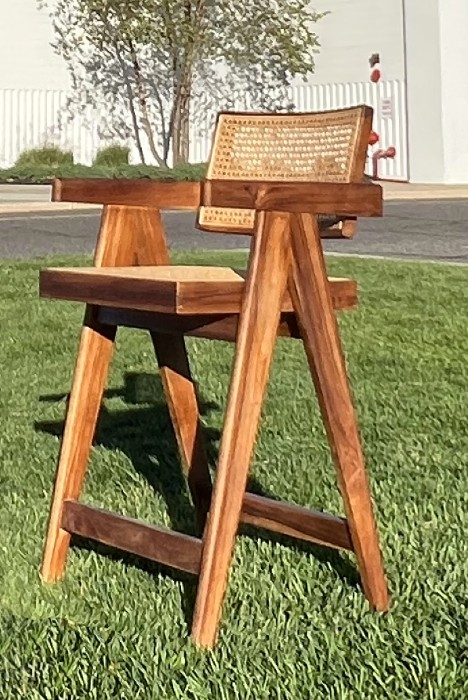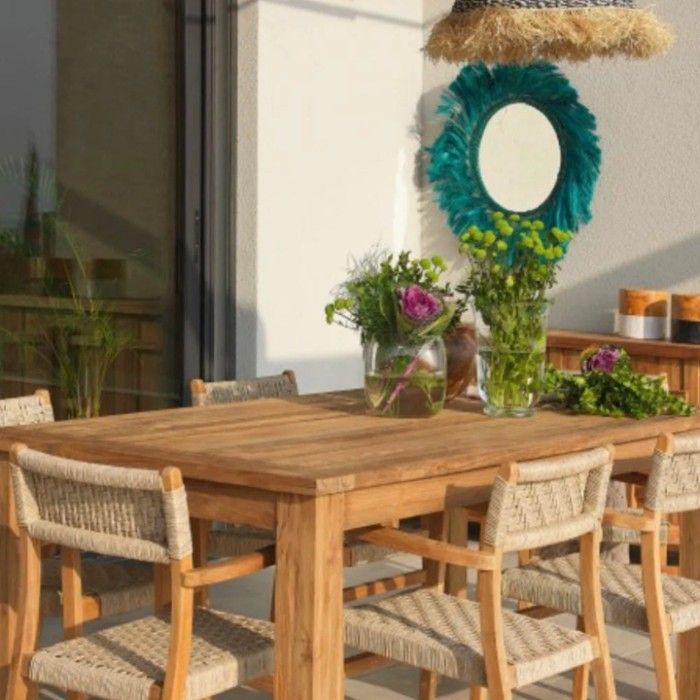 Other options that are highly durable include aluminum, wrought iron, and synthetic wicker. No matter which material you choose, make sure your outdoor restaurant furniture is suitable for the climate you live in before making a purchase.
How to choose the right size and style for your restaurant patio
Choosing the right size and styles for your restaurant patio is a crucial decision. You should take into consideration how much room you would need to set out comfortable seating that could accommodate both diners and those who just want to take a drink at the bar.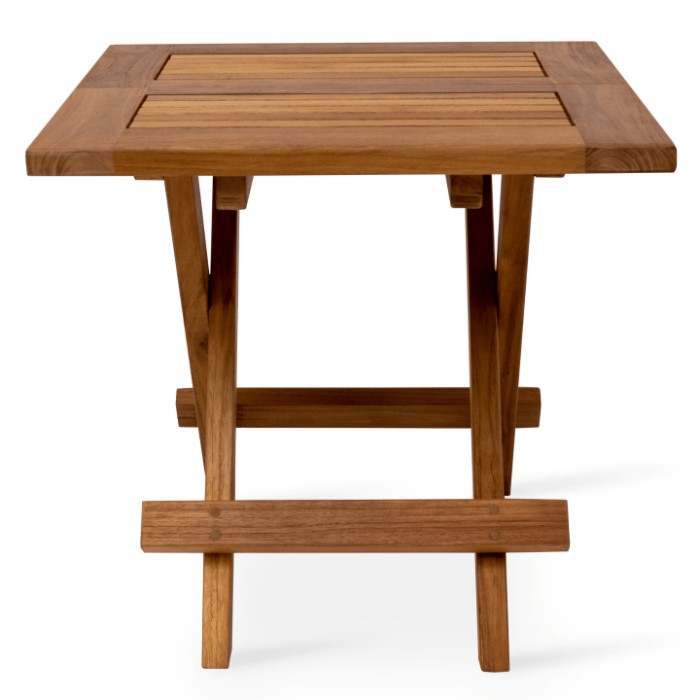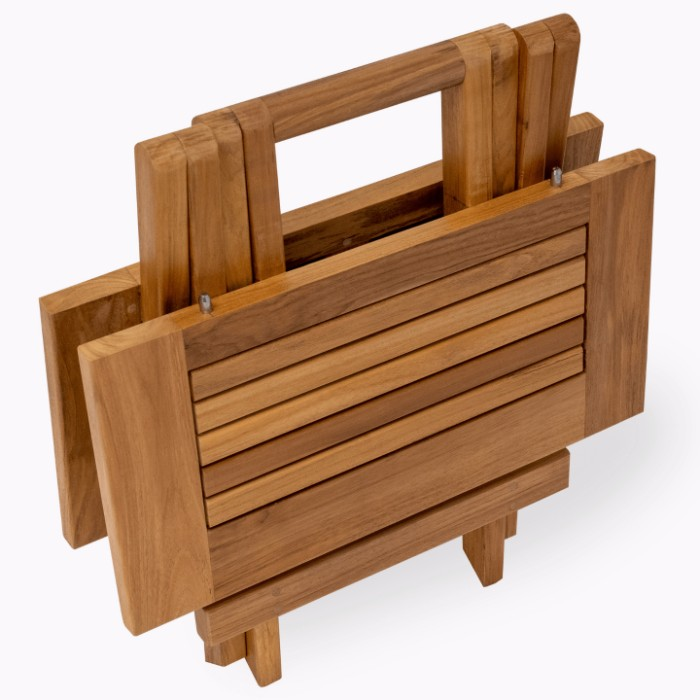 The space should also be big enough for commercial equipment like heaters, umbrellas, planters or other items you may require for an outdoor area.
Another aspect to keep in mind about restaurant patios is the type of seating - tables, chairs, bar stools - making sure these pieces match the ambiance you are looking to create. Once you decide on all these factors, your restaurant patio will be ready to awe your customers!
Teak is one of the most popular materials for commercial outdoor furniture of all times. Not only is it incredibly long-lasting, but it also has a luxurious natural finish that can give an outdoor space a polished, upscale look.
Folding teak tables and chairs are particularly great for restaurant patios because they provide functionality and convenience. These versatile pieces can quickly be set up, folded down, and moved around easily with minimal effort, making it a perfect choice for any business establishment. They also take up less space than traditional seating arrangements, allowing restaurants to maximize space.
Does Patio Furniture Rust? Tips for caring for your patio furniture to extend its lifespan
When caring for your patio furniture, there are several factors to consider. Teak wood is a very popular choice for outdoor furniture and can be expensive but can last for years if it is properly cared for. Acrylic and plastic furniture are cheaper alternatives, but must be moved indoors or covered when it starts to rain in order to guard against severe weather damage. Wood chairs can last slightly longer than plastic items with an outdoor covering or paint job that prevents moisture from penetrating the wood. Iron or aluminum items should not be left outdoors during heavy downpours as the pieces will corrode easily and weaken any structural adhesive joints.
Like teak chairs and tables, restaurant-style patio furniture can become a costly investment, so make sure you keep it safe with proper storage (inside) during bad weather. With the right care and maintenance schedule, your teak and other outdoor furniture pieces will last through many summers in the sun!
How Long Should Outdoor Restaurant Furniture Last?
What tips can you provide for caring for your teak patio furniture to extend its lifespan?
When caring for teak patio furniture, it's important to use a teak oil or sealer regularly. This will help protect the wood from moisture and ultraviolet light damage. It's also recommended to clean your furniture with warm soapy water and a mild detergent at least several times a year. After cleaning, let the wood air dry completely before applying any treatment products. Be sure to apply conditioners and protectants in accordance with the product directions for best results. It's also helpful to store outdoor furniture during heavy periods of rain or snowfall, if possible. With proper maintenance, your teak patio furniture can last for many years! 
What tips can you provide for caring for your acrylic patio furniture to extend its lifespan? 
When caring for acrylic patio furniture, it's important to clean it regularly with a soft cloth and mild detergent. Avoid using abrasive cleaners or harsh chemicals as this could damage the surface. It is also recommended to use a UV protectant spray and keep your furniture out of direct sunlight when not in use, as this will help protect it from discolouration or fading over time. Additionally, storing your furniture during heavy periods of rain or snowfall can help extend its lifespan. Finally, be sure to inspect all metal components periodically for rust or other signs of wear and tear that may need attention. With some basic maintenance and care, your acrylic patio furniture can stay looking like new for years to come!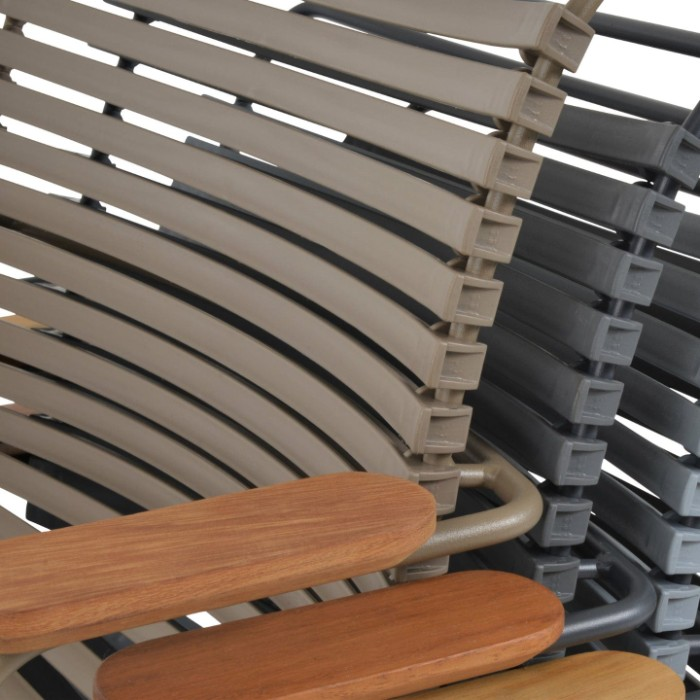 What is the best surface for an outdoor restaurant table?
When selecting material for outdoor restaurant tables, it's important to consider the weather and environmental elements they will be exposed to daily. Table material should be extremely durable and resistant to sun, rain, heat and shade – an ideal material is one that requires minimal maintenance and stands up to regular cleaning.
Of course you need to make sure your choice is inviting too – whether it's modern folding chairs, traditional wooden benches or a cozy set on the deck – rust shouldn't be part of the equation. When outfitting an outdoor dining spot your goal should be creating an inviting atmosphere that welcomes customers back again and again. Make sure your material selection can't fail under pressure.
What is the best type of outdoor dining set?
When it comes to patio furniture, outdoor dining sets are the perfect way to transform any patio or pool area into an inviting oasis. Choosing the right set is key; look for a style that reflects your sense of design while being durable enough to withstand the elements.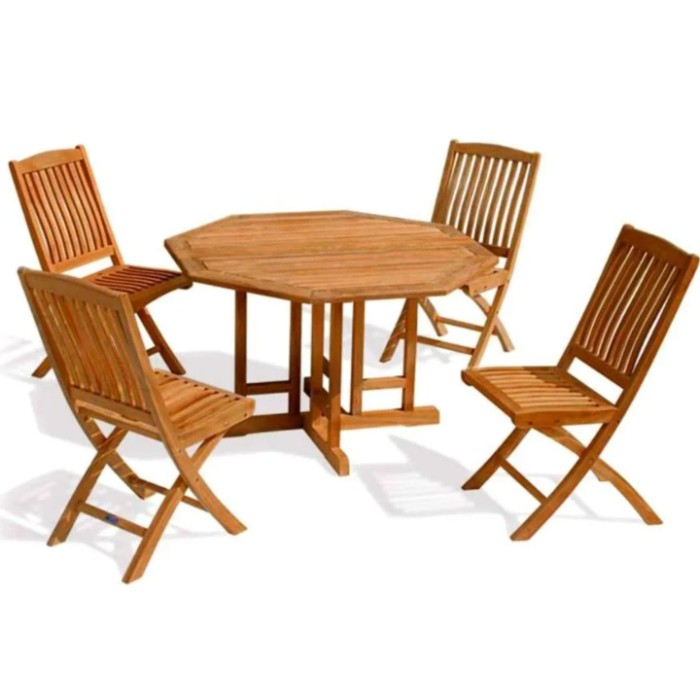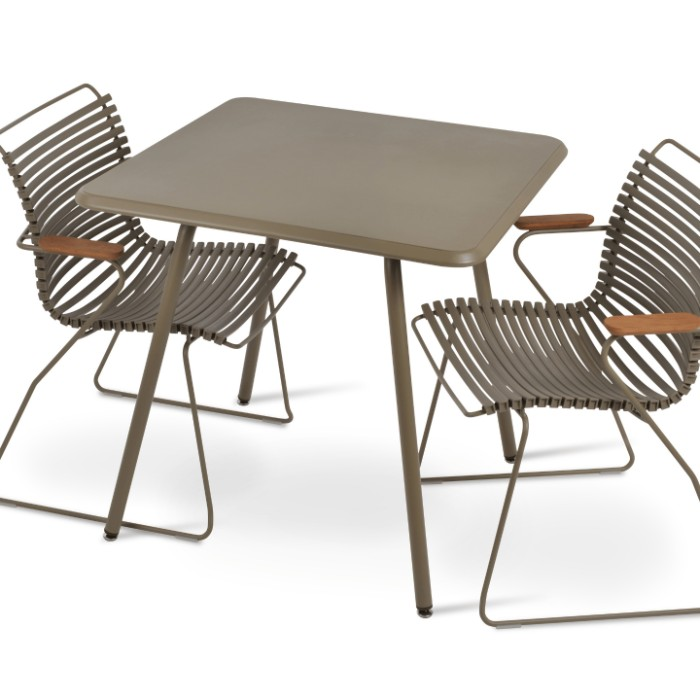 Make sure everything you choose is sturdy, comfortable and well-sized so guests can create a cozy spot for socializing and eating outside. For more commercial seating, consider stools in different sizes to accommodate more people. A contemporary tables-cape featuring modern chairs and tables will take your patio decor up a notch, no matter what size patio or deck you have!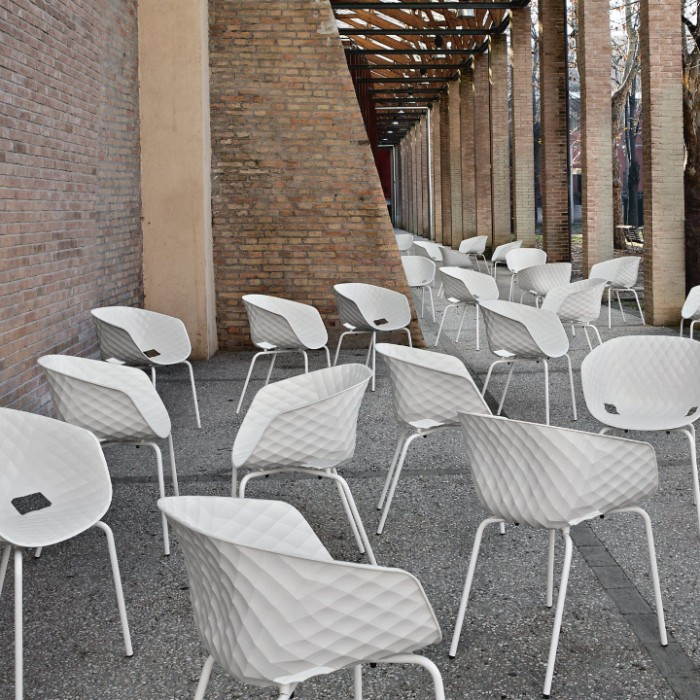 No matter what type of restaurant patio furniture, commercial patio furniture, or bar stools for outdoor space you choose, be sure to select a size and style that is appropriate for your outdoor area. With proper care, your patio furniture can last for many years. If you are looking for high-quality, durable bar stools, chairs, outdoor restaurant tables, outdoor restaurant furniture, we invite you to browse our selection at Your Bar Stools Canada. For a limited time, we are offering free shipping across Canada. Contact us today to learn more about our special discounts.